WERNER IS A PROUD
PARTNER OF NATIONAL
LADDER SAFETY MONTH

Join us in putting safety first this March.
SAFETY TRAINING RESOURCES

SCHEDULE SAFETY TRAINING
Werner is passionate about ladder and fall protection safety. To schedule a virtual safety training or speak with a safety professional, please click below:
Looking for this year's National Ladder Safety Month webinar?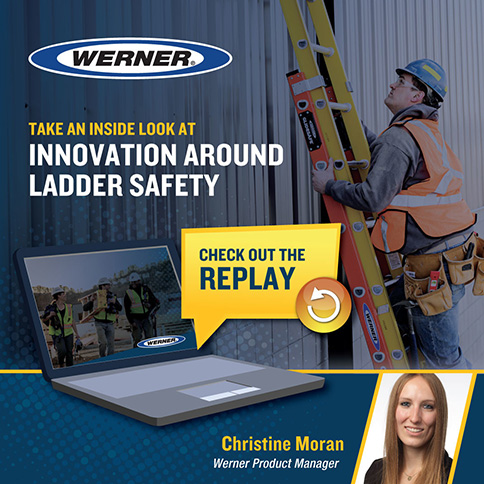 INNOVATION AROUND LADDER SAFETY
This free webinar will give you an inside look at innovation around ladder safety.


LADDER CORE TRAINING
This course will introduce you to Werner climbing products and the basics of choosing the right ladder for the job.

LADDER SAFETY VIDEOS
Watch these videos to learn how to use our ladder products safely whether you are new or just brushing up.



ADDITIONAL: LADDER SAFETY GUIDE
A guide to learning about the different type of ladders Werner has to offer and how to work safely with them.



FALL PROTECTION CORE TRAINING
This course teaches you how to describe the A,B,C,D, and E's of fall protection and identify basic safety standards.

FALL PROTECTION SAFETY VIDEOS
From inspecting a harness to "walking it down," here are videos to learn how to use our fall protection products safely.



ADDITIONAL: FALL PROTECTION SAFETY
Learn more about our Fall Protection Products. Get answers to your most common Fall Protection questions.

ADDITIONAL TRAINING COURSES
ONLINE TRAINING TO EARN A CERTIFICATE
Welcome to MyWernerCo
This interactive program is designed to keep professionals safe by educating users on the proper ways to climb.
Ongoing updates for additional courses
Quiz results displayed and reported
Actively track progress
Monitor trainee usage and success
Multimedia and interactive simulations
Checkpoints throughout courses
Stop and restart where you left off