Support
FALL PROTECTION FAQS
How do Werner® Harnesses differentiate?
Watch this Werner® video on what makes the ProForm F3 harnesses unique.
HOW DO I SET UP A FALL PROTECTION HARNESS WITH A TWINLEG SRL FROM TWO INDIVIDUAL LIFELINES?
Watch this Werner Tutorial on how to properly set up your Fall Protection Harness with a Twinleg SRL from two individual lifelines.
CAN I USE ANY SELF RETRACTING LIFELINE (SRL) OR SHOCK ABSORBING LANYARD IN LEADING EDGE APPLICATIONS?
No. Only Self Retracting Lifelines (SRL') and Shock Absorbing Lanyards that have been tested over an edge can be used this way. Both Leading Edge SRLs and Leading Edge Shock Absorbing Lanyards are clearly marked that they are approved for leading edge use.
WHAT KIND OF EDGES CAN THE WERNER LEADING EDGE SELF RETRACTING LIFELINE (SRL-LE) AND LEADING EDGE SHOCK ABSORBING LANYARDS BE USED WITH?
All of Werner Leading Edge SRL's and Leading Edge Shock Absorbing Lanyards have been tested and approved for use over steel beam, precast concrete and B-deck. ¬The ANSI/ASSP Z359.14-2014 standard test procedures for SRL-LE devices requires drop tests over a sharp structural steel edge. Test requirements for concrete, stone, steel decking or other materials are not included in the testing requirements in the current version of the ANSI/ASSP Z359.14 standard and testing of such equipment is outside the scope of the standard. More information from the Z359 Committee can be found here:
CAN I SERVICE OR REPAIR MY SRL?
Yes. More information on service or repair requests through a 3rd party repair center can be found here: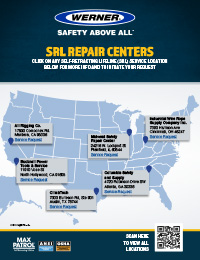 CAN I "TIE-BACK" MY LANYARD TO ITSELF?
Werner Fall Protection offers lanyards that are specifically designed to "Tie-Back". These Tie-back lanyards include abrasion resistant webbing that can be wrapped around an anchorage with a snap hook designed to be connected back to the lanyard web. Traditional lanyards are not designed to be used this way. Only lanyards designed for tie-back are approved for tie-back directly onto the web.
CAN I WRITE ON MY HARNESS/LANYARD?
Permanent markers (Sharpie® brand or equivalent) use solvents that allow the ink to dry very quickly. Once exposed to the air, the solvents in the permanent markers evaporate almost immediately leaving just the ink. Neither the solvents nor the ink in permanent markers will cause any harm to either polyester or nylon web. WernerCo recommends marking on the product label provided the markings on the label are still legible. A fabric marker rated for use on launderable items is recommended if the equipment must be marked on the web. More information can be found here:
CAN I USE A SHOCK ABSORBING LANYARD FOR RESTRAINT APPLICATIONS?
Yes. A worker can use a shock absorbing lanyard in fall arrest or restraint applications. In restraint, it will not be possible to generate enough force to activate the shock absorber. Please note: A worker may not use a non-shock absorbing lanyard in a fall arrest application.
IS THERE AN EXPIRATION DATE FOR MY HARNESS AND LANYARD?
All components of the fall protection system must be inspected prior to each use and at least annually by an OSHA defined "competent person" other than the user. The two-level inspection provides an independent means of determining the condition of the equipment and verifies that it is safe for use. WernerCo does not mandate a 5 year service life for fall protection products. For more information please view the Fall Protection Inspection and Service Life document.
CAN I USE WERNER PRODUCTS WITH THOSE FROM ANOTHER MANUFACTURER?
ANSI and OSHA emphasize compatibility of components with a fall protection system. It is a good practice to ensure that all components of a personal fall arrest system are compliant of equal standards. WernerCo, as well as other manufacturers, may impose restrictions regarding the use of other manufacturers' components within perspective engineered fall arrest systems. When a product is sold as a system, such as a temporary horizontal lifeline system, the component parts are tested as a system and are not interchangeable. More information can be found here:
WHAT IS THE MAXIMUM FREE-FALL DISTANCE A WORKER CAN FALL WHILE WORKING IN A "FALL ARREST" CONDITION?
The worker can free-fall a maximum of "6 feet" and not come in contact with any obstruction or lower level.
HOW MUCH STRENGTH DOES MY ANCHOR HAVE TO SUPPORT?
According to OSHA regulations, anchorages used for the attachment of personal fall arrest systems shall meet the following requirements: Construction: 29CFR 1926.502, Subpart M: Anchorages used for attachment of personal fall arrest equipment shall be independent of any other anchoring used to support or suspend platforms and capable of supporting 5,000 pounds (22.2kn) per employee attached, or shall be designed, installed, and used as follows: (i) as part of a complete fall arrest system which maintains a safety factor of at least two: (ii) under the supervision of a qualified person.
DOES MY SELF RETRACTING LIFELINE (SRL) NEED TO BE RE-CERTIFIED EVERY YEAR?
No. It is required that all components of SRL's be inspected prior to each use, and annually by an OSHA defined "competent person" other than the user. SRL's will need to be repaired based on the following conditions:
1. It has realized the load of a fallen worker
2. The load indicator has been revealed
3. The snap hook is inoperable
4. The cable or webbing has excessive wear or kinks
5. The cable or webbing does not engage when tested or it does not release Do not use if inspection reveals any defect, wear, damage, deterioration, inadequate maintenance, or unsafe condition. Do not use any equipment that has been subjected to the forces of arresting a fall or if any part of the load indicator warning is showing.
AT WHAT HEIGHT AM I REQUIRED TO WEAR FALL PROTECTION?
The fall protection trigger height is 6 feet in construction and 4 feet in general industry.
CAN I CONNECT TWO SNAP HOOKS (OR TWO LANYARDS) TO ONE D-RING?
No. All connecting subsystems must only be coupled to compatible connectors. OSHA 29 CFR 1910.140 and 1926.502 prohibit snap hooks from being engaged to certain objects unless two requirements are met: snap hook must be a locking type and must be "designed for" making such a connection. Under OSHA "designed for" means that the manufacturer of the snap hook specifically designed the snap hook to be used to connect to the equipment in question.
The following connections must be avoided because they can result in rollout* when a non-locking snap hook is used:
• Direct connection of a snap hook to horizontal lifeline
• Two (or more) snap hooks connected to one D-ring
• Two snap hooks connected to each other
• A snap hook connected back on its integral lanyard
• A snap hook connected to a webbing loop or webbing lanyard

*Rollout: Improper dimensions of the D-ring, rebar, or other connection point in relation to the snap hook dimensions that would allow the snap hook keeper to be depressed by a turning motion of the snap hook.
CAN I WASH MY HARNESS AND LANYARD?
Washing your harness and lanyard is allowed following specific cleaning procedures:
1. Wipe off all surface dirt with a dampened sponge
2. Squeeze the sponge dry
3. Dip the sponge in a mild solution of commercial soap or detergent
4. Work up a thick lather, and vigorously work back and forth
5. Rinse with a clean water solution
6. Wipe dry with a clean cloth.
7. Hang to completely dry in a dry and shady area, not directly in the sun

Do not wash your harness or lanyard in a washer or dryer as it will damage both. Werner is not responsible for damaged equipment should this occur.
CAN I ATTACH A LANYARD TO A SELF-RETRACTING LIFELINE?
No. If you require a longer working length for a specific application, you are required to use a longer self-retracting lifeline.
CAN I GET A LANYARD LONGER THAN 6 FEET IN LENGTH?
No. The longest length is 6 feet in a shock absorbing lanyard. They are available in shorter lengths, 3-4-5 feet, but 6 feet is the longest length.
AM I REQUIRED TO BE TIED OFF WHEN USING A PORTABLE LADDER?
No. Neither the ladder standard (29 CFR 1926, subpart X) nor the fall protection standard (29 CFR 1926 subpart M) requires fall protection for workers while working on portable ladders. This can sometimes be confusing as the trigger height in construction is 6 feet, and 4 feet in general industry. Employers can always specify stricter requirements that go above and beyond the OSHA requirements.