Benefits of Fibreglass
Fibreglass - also called reinforced polymer (GRP) is a material universally recognised for being lightweight, extremely strong and robust and, of course, non-conductive to electricity.
Our fibreglass ladders are designed with non-conductive stiles, which means the risk of electrical shock can be avoided for those who working near electricity, for undertaking electrical contracting jobs or for domestic electrical works. The fibreglass stiles are also non-marking and warm to the touch and retains its smooth surface over the duration of its lifetime, therefore ideal for specialist trades such as painting and decorating.
Below are three key benefits of our fibreglass ladders to demonstrate why fibreglass is the best overall materials for any types of jobs around the worksite.
---
Maximum Strength
Inherently strong and robust; ladders made from fibreglass offer high resistance to denting and twisting. Consistent quality and low maintenance are characteristics of fibreglass. These automatically lead to cost savings over time. Competitive whole-of-life costs are a recognised benefit of fibreglass ladders.

Maximum Durability
Designed and tested for extreme temperatures, fibreglass is highly resistant to weathering, corrosion and rusting.
Non-marking, fibreglass is warmer to the touch and retains its smooth surface. Fibreglass ladders are therefore ideal for specialist trades such as painting and decorating.

Maximum Safety
Fibreglass does not conduct electricity, so it's safer to use around power lines or other live sources of electricity.
Electricians and other professionals working around electricity should choose fibreglass ladders.

---
Werner has the full range of fibreglass ladders help you get the job done safely.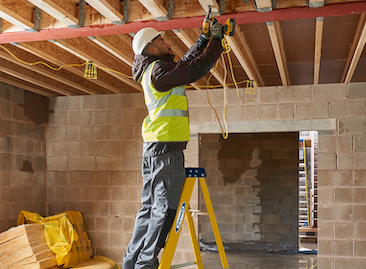 Swingback Step Ladders
H-spreader enables single handed operation and add to the strength and stability of the ladder. Available in 6 sizes.
View Models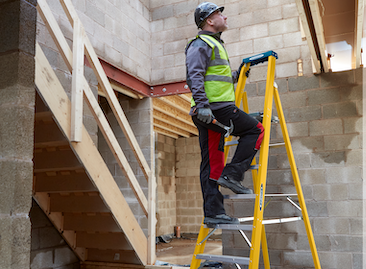 Platform Step Ladders
Heavy-duty steel platform provides a comfortable and secure work area. Available in 8 sizes.
View Models
Multi-purpose Ladder
One-handed adjustment system for quickly change to 3 different modes. Designed to securely lean against corners, studs and poles.
View Model
Trade Extension Ladders
The exclusive ALFLO rung joints offer Twist-Proof performance on the job. Moulded foot brace provides protection against damage. Suitable for trade use. Available in 4 sizes.
View Models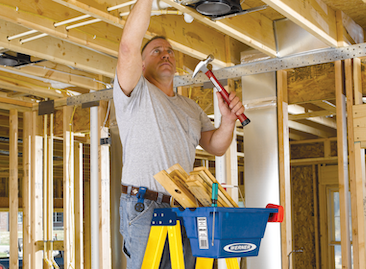 Lock-In Accessories
Unique Werner Lock-In accessories expand your work surface and limit trips up and down the ladder. For use with fibreglass step ladders.
View Models