COMPACT EXTENSION LADDERS
SAME REACH IN A COMPACT DESIGN
Available in both fiberglass and aluminum.
The compact design gives you the same reach
as a traditional extension ladder and allows for
easy storage and transportation.
Compact Extension Ladder Features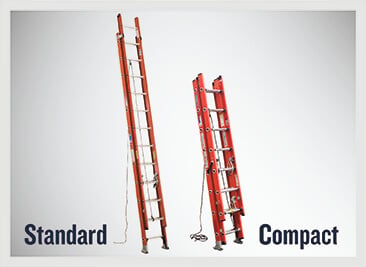 COMPACT DESIGN
Innovative three-section ladders reduce shorter than standard two-section extension ladders making them easy to transport inside and on top of vehicles.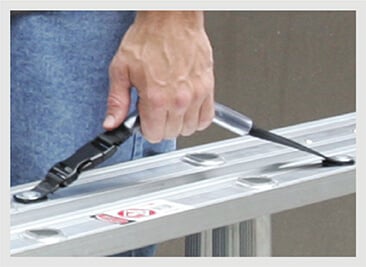 CARRY HANDLE
Lightweight aluminum design with a convenient handle makes it easy to carry from storage to project.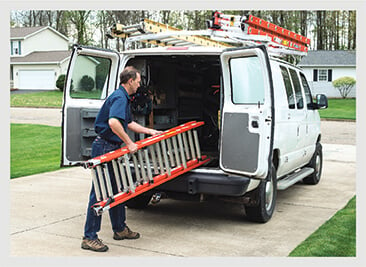 EASY TO CARRY AND STORE
Compact design makes it easy to transport and store in small spaces.
OVERVIEW


D1200-3AZ Series Aluminum Multi Section Extension Ladders
The D1216-3AZ Aluminium 2.0 m/4.2 m Compact Extension Ladder has an Industrial Duty Rating and a Load Rate of 135kg. The product features the special 3 piece frame design to ensure a compact extension ladder for ease of use, storage and transport. The TRACTION-TRED D-rungs are slip resistant and the side rails are interlocking. Durable shoes rest flat or are held in spur position with SHU-LOK feature. Mar-resistant end caps help protect the surface ladder is leaning against. Exclusive ALFLO® rung joint means TWIST-PROOF performance every time.
MODEL LIST
| MODEL NO. | SIZE | MAX. SAFE WORKING HEIGHT | STYLE | REACH HEIGHT | BUY ONLINE |
| --- | --- | --- | --- | --- | --- |
| D1216-3AZ | 16ft | 13ft | Multi Section | 15ft | |